10 Blank Square Coasters 4" x 4" x 1/4" Thick for Dye-Sub / Heat Transfers Press Square10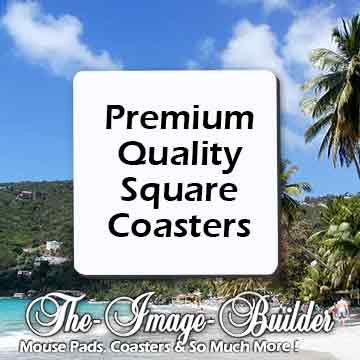 10 Blank Square Coasters 4" x 4" x 1/4" Thick for Dye-Sub / Heat Transfers Press Square10
blockquote>
10 Premium Quality 4" x 4" Square x

1/4" Thick

Coasters
Our Professional/Commercial Coasters have a:

Brilliant white, high resolution, smooth, micro weave polyester top producing vibrant, sharp, rich image details. 

With an extremely dense, black, uniform, non-skid, 100% natural rubber base.
They Are Excellent For:
Silk Screening
Dye Sublimation
Heat Transfers (Using a house hold iron or a heat press.)
Fabric Painting 
Please Note:  ALL new coasters have a neoprene rubber smell.   Once they air out the smell goes away.
GET THE EXACT NUMBER YOU NEED !
Need More Then 300 ? Contact Us For Prices and Shipping Quotes.
Sales@The-Image-Builder.com